People frequently consider their heating system to be something that can be turned on and then forgotten about. However, if heaters aren't properly maintained, they can be a lot of work, especially if you have oil steam boilers. 
We specialize in all brands and models of residential and commercial oil steam boilers at EZ FLOW. This allows us to provide you with the best heating services at a reasonable cost. 
You can contact us for oil steam boiler repairs, installations, replacements, and maintenance in your home or business.
Oil Steam Boilers Repair
Is your oil-fired steam boiler broken? It's time to call us if you don't have heat or hot water in your home or business. 
We provide emergency oil steam boiler repair throughout Northern New Jersey 24 hours a day, 7 days a week. We'll send a contractor to your location as soon as you contact us, regardless of what time it is. Whether it's a weekend or a holiday, you can count on EZ FLOW to provide prompt heating repair! 
From the heat exchanger to the burner, we'll quickly diagnose the issue and repair anything that's broken!
Oil Steam Boiler Replacement
All heaters are expected to last a certain amount of time, after which repairs are no longer possible. 
Our technicians are trained to recognize when any of your oil boiler's parts need to be replaced. Any switch, valve, pilot, fan, blower, or air filter will be repaired quickly. 
We can also offer to replace the entire unit for a reasonable price if the oil steam boiler will not benefit from new parts.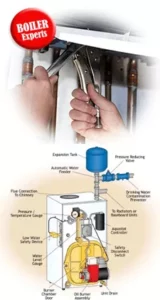 Oil Steam Boiler Installation & Maintenance
Are you interested in installing an oil steam boiler in your home, office, or business? Count on EZ FLOW for a low-cost oil steam boiler installation that will exceed your expectations. 
You can trust that when we install a new heater, it will be done correctly and that you will not need any unnecessary repairs. Once the installation is complete, we can schedule annual maintenance to inspect the oil steam boiler. 
We also provide maintenance for one-time inspections to improve the efficiency of your heating system!